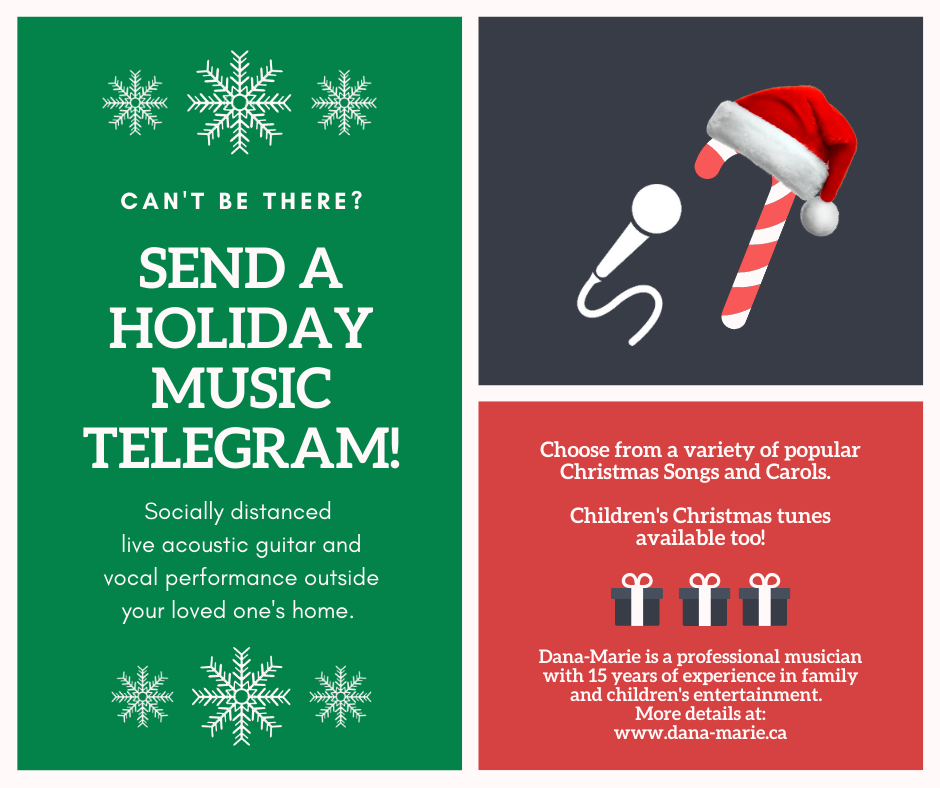 This year, show your loved ones how deeply you care, and how much you're thinking about them by sending holiday cheer right to their front door. Dana-Marie embodies the joy of Christmastime through her cheerful and sentimental renditions of popular Christmas music. Your loved ones will feel the warmth of your hug from afar.
Performance Details
Sound: All performances are miked and amplified by a small high quality street-performance amplifier. This is to ensure the subtle nuances of the musical performance can be appreciated in a distanced outdoor setting. Dana-Marie will exercise tasteful judgement to ensure neighbours are not disturbed (rather delighted is more likely!).
Song Selection: You will be invited to select 5 songs from the the list below. Performance time will run anywhere between 15-25 minutes. Depending on the weather, "short and sweet" may be more appreciated by your guests, and Dana-Marie will be more than happy to feel out the vibe and play it by ear.
Safety and Comfort: Due to Covid-19, all performances will take place outdoors 12 or more feet from the entry way or window of the house or apartment building. Dana-Marie has extensive experience performing outdoors in cold weather. Your loved ones, however, likely aren't as weathered. In your consultation, Dana-Marie will brainstorm with you all the ways to ensure your loved ones are warm and comfortable during the performance. For example, where possible, they might enjoy the performance from a window, or you might give your loved ones advanced notice that "your present is arriving soon and you should put on a coat before opening the door". If you prefer to a more dramatic surprise, Dana-Marie is also happy to give the recipients time to get comfortable before commencing or continuing the performance. Lots of ideas, and Dana-Marie will be happy to discuss all thoughts about logistics with you to ensure an enjoyable experience for all.
Keep in mind, you are also welcome to enjoy the performance yourself, whether your bubble permits you to be there in person, or otherwise virtually on Zoom, etc, or from the warmth of your car on the street, or even braving it in the cold, socially distanced alongside Dana-Marie. We are all craving solidarity and connection in this time and while Covid may keep us apart, music will always bring us together!
Performance Locations
Throughout the month of December, Dana-Marie will travel to your loved one's home anywhere in North Vancouver, West Vancouver and Squamish, as well as on Vancouver Island from Victoria to Comox. Other locations may be possible, so please feel free to inquire.
Christmas Repertoire
Here is the list from which you will be invited to select 5 of your loved one's favourite Christmas songs (other songs may be possible, so please feel free to inquire):
Popular Children's Songs:
The Chipmunk Song (Dana-Marie sings it exactly like a Chipmunk!!! Really!)
Frosty the Snowman
Here Comes Santa Claus
Must Be Santa
Jingle Bells
Rudolph the Red Nosed Reindeer
Santa Claus is Coming to Town
Sentimental Songs:
Auld Lang Syne
Blue Christmas
Have Yourself a Merry Little Christmas
I'll Be Home For Christmas (if only in my dreams)
It's Beginning to Look a Lot Like Christmas
Old Toy Trains
Santa Baby
Silver Bells
White Christmas
Fun Upbeat Tunes:
Deck the Halls
Feliz Navidad
Grandma Got Run Over By A Reindeer
Have a Holly Jolly Christmas
It's the Most Wonderful Time of the Year
Jingle Bell Rock
Let It Snow!
Rockin' Around the Christmas Tree
Sleigh Ride
We Wish You a Merry Christmas
Home For the Holidays
Winter Wonderland
Traditional Christmas Carols:
Away in a Manger
Do You Hear What I Hear?
Little Drummer Boy
O Come, All Ye Faithful
O Holy Night
Silent Night
What Child Is This
Fee
The fee for a Holiday Music Telegram is $250. This is inclusive of consultation, communications, travel time, customized preparation, and taxes.
To inquire for more details, or to book a Holiday Music Telegram, please contact Dana-Marie at contact@dana-marie.ca.